Сайт групы компаний Бин Ладена ''Saudy Bin Ladin Group'' ,принадлежавший семье Осамы,срок действия домена истекалo 11 сентября 2001 года. Это означает,что Бин Ладены,по ''фантастической случайности'',зарегестрировали свой сайт именно 11 сентября.
https://web.archive.org/web/20010301225 … group.com/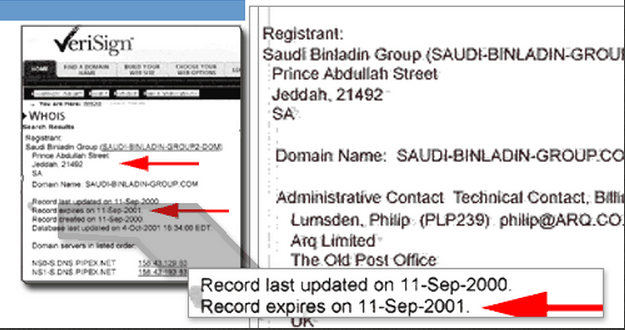 Президент Джордж Герберт Буш и Шафик Бин Ладен на встрече акционеров Карлайл групп 10-11 сентября 2001 года в отеле Ритц Карлтон.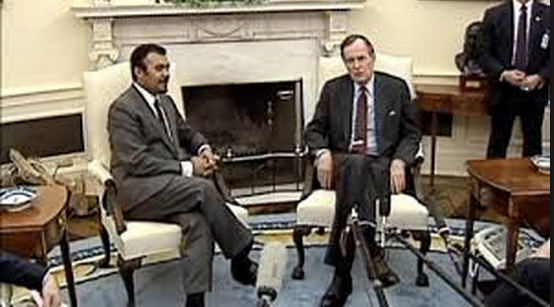 Эта статья от 9.11.01 уже удалена и доступна только в кэше.
Osama Family's Suspicious Site
Howard Altman Email 11.09.01
For the price of registering a domain name, a 30-year-old Web designer from Los Angeles has bought a bizarre piece of Internet history.
On Oct. 27, Christopher Curry's company, Shrimpo.com, purchased a domain name that once belonged to the Saudi Binladin Group, the international construction conglomerate owned by the family of public enemy No. 1, Osama bin Laden.
What makes Saudi-binladin-group.com so interesting is not just that it was once an official SBG website, but that it was registered on Sept. 11, 2000, with a pre-set expiration date of Sept. 11, 2001, according to a "whois" search of the Internet domain registry VeriSign.
Efforts to reach SBG officials, through more than a half dozen phone calls and two e-mails to the firm's headquarters in Jeddah, Saudi Arabia, were unsuccessful.
Having the SBG domain registration expire on the day the United States was attacked is "a hell of a coincidence," said Charles Boncelet, a University of Delaware computer and information sciences professor, who is an expert on the field of steganography -- the science of hiding information.
Law enforcement is already looking into whether the Sept. 11 attackers used seemingly innocuous websites or e-mails to transmit attack information using data embedded in audio or video files. The FBI will not comment about the SBG website expiration date being used as a signal to attackers -- a signal that would mean the bin Laden family's public disavowal of their notorious 17th son, Osama, was merely a public relations ploy.
Regardless of whether the FBI is investigating the site, Curry purchased it and three other SBG domains.
At first, Curry -- who recently entered the field of domain speculating -- purchased the SBG domains thinking that he could sell them, at a handsome profit, with a portion of the proceeds going to the Red Cross disaster relief fund.
But Curry has decided that the domain name should not just be a portal to an empty site awaiting a quick sale. The site has received so many hits, as many as 13,000 per day, many from the Arab world, that Curry says he is going to turn the site into a full-fledged font of bin Laden info.
"I am going to use the site as an informational site about the bin Laden family," Curry said. "My friends are writing stories about the family history and we are going to have a feature called Binlinks, which are links to other sources of information about the family on the Web."
Click on the site now, and you will see a picture of Osama's head next to "bin Laden: From palace prince to cave dweller. Information about the world's most hated man."
There is also an ad for LibertyUnites.org, a charity.
Curry said that in addition to serious information about the family and the terrorist, the site will "be a fun site, very interactive and a bit campy. There will be some animations, short little cartoon films."
The site will be fully operational by Nov. 15, he said. Shrimpo.com, which has produced websites for "everything from the adult industry to corporate work" has never attempted anything like this before, Curry said.
"I never realized how much time this would take," he said. "Of course, with the downfall of the IT industry, we have lots of time on our hands."
When he first put the site on line, Curry said he received hate mail from people wondering whether he was a terrorist and people upset that he would try to capitalize on the tragedy. While he hasn't heard from any law enforcement types or SBG representatives, Curry has discovered one drawback to operating saudi-binladin-group.com.
"I have gotten a lot of Arabic spam," he says. "Investment opportunities, you-can-make-money-now deals, those sorts of things."
http://webcache.googleusercontent.com/s … mp;ct=clnk